Who are we ?
National Leader in Telecommunications Network Infrastructure.
50 years of Passion, Expertise and Innovation
Founded in 1967 and headquartered in Montréal, Québec, Telecon is Canada's leading provider of telecommunications network infrastructure services. We leverage our national presence, our network of 4,700 professionals, our client relationships and our 50-year history to offer industry-leading design, infrastructure and connectivity solutions to telecommunications companies nationwide.
Resources
An unparalleled national footprint and a large, proficient and multidisciplinary team.
Know-how
Expertise in design, infrastructure and connectivity services for various types of wired and wireless telecommunications networks.
Adaptability
A comprehensive suite of telecommunications network deployment services to suit projects of all sizes and complexity.
Client focus
Well-established and long-standing relationships with Canada's key telecommunications providers.
Trust
Committed to successfully meeting its clients' needs safely, on time and on budget.
Excellence
Recognized for its reliability, efficiency and high-quality delivery of telecommunications network deployment services.
Our vision:
To become the leader
We strive to become and remain the national leader in telecommunications network infrastructure.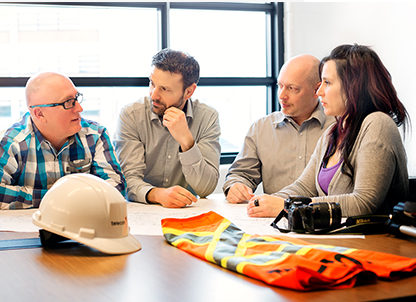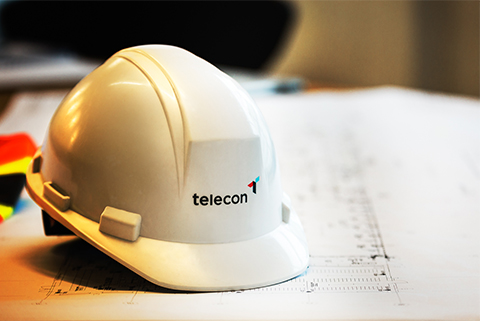 Our mission:
To exceed expectations
Driven by the desire to become the Canadian industry leader, we pledge to deliver superior-quality customized services and turnkey solutions in the timeliest, most cost-effective manner possible, so as to exceed our clients' every need and requirement.
SMART employees
We are inspired and guided by our 'SMART' corporate values in each of the activities we do and every action we take.
Safety and health
We are all responsible for and committed to safety. We count on one another to protect our health and safety as well as those of our subcontractors and the public at all times.
Mastery of our line of business, targeting excellence
We strive for operational excellence, and we work tirelessly, with an energetic, thorough and disciplined approach to delight our customers. We stand out through the quality and reliability of our service and our desire to become the best of our industry.
Agility
Our passion is reflected in our creativity and agility, as individuals and as a group. Our entrepreneurial spirit pushes us to improve constantly in order to innovate and to develop our competitive edge.
Respect and integrity
We treat our partners with respect and dignity, with each of us having our own value. Our actions are principled, and we uphold all standards.
Teamwork
We create the synergy needed to build our future together. We think of Telecon's overall success and encourage each other in its support.
Yukon
British Columbia
Alberta
Quebec
Northwest Territories
Nunavut
Saskatchewan
Manitoba
Ontario
Newfoundland
and Labrador
New
Brunswick
Nova
Scotia
Prince Edward Island

Our National Scale and Presence
With our thousands of highly skilled employees and our extensive network of specialized subcontractors from coast to coast, we are able to meet every type of request, regardless of the location or scope of work to be conducted.
65
Offices in Canada and USA
3100
vehicles and specialized equipment
homes connected (fibre-to-the-home)
Find an office
Our Corporate Structure
* More than 40 shareholders from the Senior Leadership Team
Back to top
Back to top
A First-Class Team
Our top-quality service delivery relies on our most important resource: our 4,700 employees. Whether leaders, engineers, technicians or specialized workers, our employees form a vast team – experienced, efficient and innovative, fully committed to satisfying and delighting our customers. Do you aim to flourish in a unique environment and to take up stimulating professional challenges on a top-notch team? Don't wait any longer: join us now!
Do you aim to flourish in a unique environment and to take up stimulating professional challenges on a top-notch team? Don't wait any longer: join us now!
Join our team